ECR 2022: Ziehm Imaging presents latest flat-panel technology on versatile mobile C-arms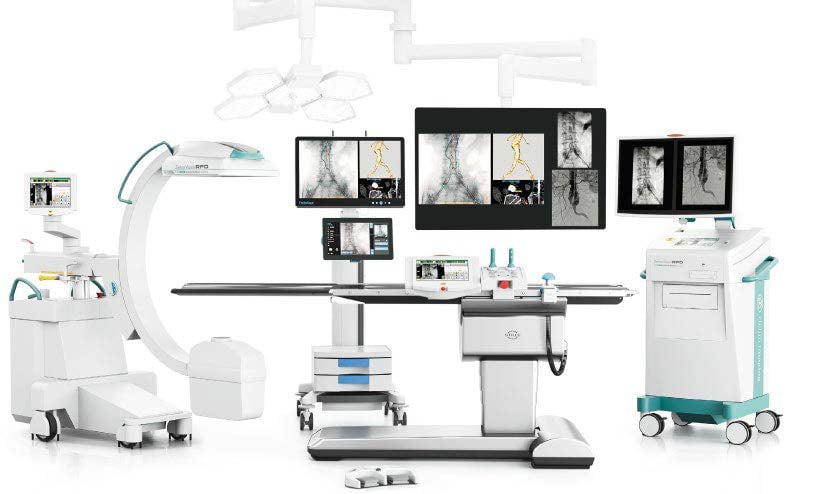 Vienna, Austria – July 13, 2022 – Ziehm Imaging, the market leader for mobile C-arms, presents true highlights at this year's ECR congress. With its versatile Ziehm Vision Solo FD and Ziehm Vision FD, the Germany-based manufacturer unveils a new IGZO1 flat-panel detector for intraoperative imaging. This indium gallium zinc oxide (IGZO)1 technology provides excellent image quality while keeping dose levels to a minimum.
"We are only at the beginning of an innovative development. The new IGZO technology offers great potential," says Klaus Hörndler, CEO of Ziehm Imaging.
To meet the exclusive needs of the most demanding clinical applications, both systems are also available with the high-performance CMOSline2 premium edition.
Powerful packages for more efficient interventions

At ECR 2022, visitors are invited to experience two powerful clinical packages for cardio and vascular interventions based on the fully motorized Ziehm Vision RFD Hybrid Edition3.
Combined with Therenva's mobile image fusion system EndoNaut, the Ziehm Vision RFD Hybrid Edition allows more accuracy for demanding hybrid OR procedures by bringing preoperative CT data and intraoperative images together. This combination helps healthcare professionals to efficiently plan and safely execute minimally invasive endovascular interventions while not only reducing X-ray exposure but also minimizing contrast media consumption.

Combined with a large monitor display, an interventional table and Fysicon's QMAPP hemodynamic monitoring system, the powerful 30 kW Ziehm Vision RFD Hybrid Edition becomes an efficient mobile CathLab. Driven by the motivation to serve clinical benefit, Ziehm Imaging can look back on a wide range of innovations for the expansion into new applications where mobile C-arms can be used, by continuously improving image quality. "We will see significant expansion in the worldwide use of flat-panel technologies compared to conventional image intensifiers. At Ziehm Imaging, we have been driving the detector technology paradigm shift since 2006. We now expect the era of image intensifiers to end soon", concludes Martin Törnvik, Vice President Global Sales & Marketing.
Setting standards in mobile imaging solutions

By enhancing the proven Ziehm NaviPort interface with additional navigation and robotic guidance systems from leading providers, Ziehm Imaging continues to push the boundaries of intraoperative 3D imaging to ensure the greatest surgical control and better outcomes for patients around the globe.
Orthoscan Mini C-arms approved for pediatrics

Orthoscan is a global leader in the development of mini C-arms for the orthopedic sector and is dedicated to the imaging of extremities and pediatric use. It provides intraoperative imaging solutions for hand and limb surgery as well as for the monitoring of pediatric procedures. In addition to the premium version TAU 2020, the product family includes further systems featuring pulsed fluoroscopy.

Visit Ziehm Imaging, Orthoscan and Therenva: ECR 2022, Hall X4-411, Austria Center, Vienna
For more information, please visit: www.ziehm.com