ECR 2023: Ziehm Imaging presents awarded flat-panel technology on versatile and powerful mobile C-arms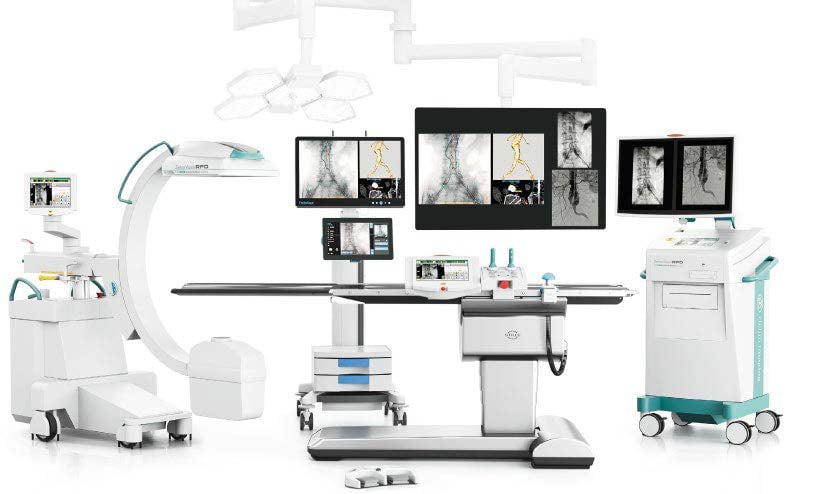 Vienna, Austria – March 01, 2023 – Ziehm Imaging, the market leader for mobile C-arms, presents the new IGZO1 flat-panel technology at this year's ECR show in Vienna. In 2023 the company is expanding its technology leadership role within the segment of intraoperative imaging. With its versatile Ziehm Solo FD, the Ziehm Vision FD and its powerful Ziehm Vision RFD, the Germany-based manufacturer can provide three systems based on indium gallium zinc oxide (IGZO) technology, that provide excellent intraoperative image quality while supporting clinicians to keep dose levels to a minimum.
To meet the exclusive needs of these most demanding clinical applications, all three systems are also available with the high-performance CMOSline2 premium edition to offer minimally invasive image-guided treatment options.
Powerful packages for more efficient image-guided interventions

Ziehm Imaging keeps growing in the cardiovascular segment. At ECR 2023, visitors are invited to experience two dedicated clinical packages for cardio and vascular interventions based on the fully motorized Ziehm Vision RFD Hybrid Edition3, which is a multipurpose alternative to fixed installed systems.
Combined with Therenva's mobile image fusion system EndoNaut, the Ziehm Vision RFD Hybrid Edition3 allows more accuracy for demanding hybrid OR procedures by bringing preoperative CT data and intraoperative images together. This combination helps healthcare professionals to efficiently plan and safely execute minimally invasive endovascular interventions while not only reducing X-ray exposure but also minimizing contrast media consumption. In combination with a large monitor display, an interventional table and Fysicon's QMAPP hemodynamic monitoring system, the powerful 30 kW Ziehm Vision RFD Hybrid Edition3 becomes an efficient mobile CathLab.
Setting standards in mobile imaging solutions

Ziehm Imaging continues to push the boundaries of intraoperative 3D imaging, empowered by a rising demand for brilliant image quality, more surgical control and better outcomes for patients around the globe. To hold out to this trend, visitors can discover an impressive selection of 3D clinical cases at the booth.
Orthoscan: Innovative imaging solutions for hand and foot surgery

Since 2002 Orthoscan has been the global leader in mini C-arm imaging committed to innovative imaging solutions for orthopaedic surgeons in surgical and clinical environments, designed for extremity imaging capable of producing digital x-ray and fluoroscopic images. Orthoscan's TAU family of mini C-arms are the first mini C-arms designed and approved for use with pediatric patients. Each TAU product includes Intelligent Dose Reduction that allow the systems to achieve significant dose savings at every level without sacrificing image quality. The Orthoscan TAU 2020 is one more highlight at the booth with an increased orbital rotation of 160°, a large arc depth combines high versatility with increased articulation.
ECR 2023 | March 01 - 04 | Austria Center Vienna

Visit Ziehm Imaging, Orthoscan and Therenva at booth: Expo X2, #223
For more information, please visit: www.ziehm.com / www.therenva.com / www.orthoscan.com
About Ziehm Imaging

Founded in 1972, Ziehm Imaging stands for the development, manufacturing and worldwide marketing of premium mobile intraoperative imaging solutions.
With more than 800 employees around the globe, the company is the acknowledged innovation leader for mobile C-arms and the market leader in Germany and many other European countries.
Ziehm Imaging covers the broadest spectrum of clinical applications and services with a wide range of systems - from Orthoscan mini C-arms to high-end full-size Ziehm C-arms. Together with its second daughter company Therenva, Ziehm Imaging is setting standards in innovative solutions. This enables specialists to plan, track and navigate in the cardiovascular, endovascular and neurovascular field.
The Nuremberg-based corporation has received several awards for its cutting-edge and patient- centered achievements, including various Frost & Sullivan and iF Design awards.
1IGZO detector variants are not available for sale in the US.
2CMOSline represents a system configuration that is based on a Ziehm Imaging CMOS flat-panel detector.
3Ziehm Vision RFD Hybrid Edition represents a group of optional hardware and software that creates an option package on the device named Ziehm Vision RFD.